Rescue After Knott's Ride Traps Riders 120 Feet Up for Hours
Around 20 people, including children, were rescued from the Sky Cabin ride 120 feet up in the air after being stuck on the ride for hours. Hetty Chang reports for the NBC4 News at 11 p.m. on Friday, Dec. 30, 2016. (Published Saturday, Dec. 31, 2016)
A portion of Knott's Berry Farm was shut down to help rescue an estimated 21 people stuck on a ride for hours Friday.
Riders on the amusement park's Sky Cabin said the ride was stuck 120 feet in the air as fire officials tried to work out rescue options.
The ride was reported stuck at 5 p.m. to the Orange County Fire Authority, but riders told NBC4 they had been stuck for at least four hours. 
A Knott's Berry Farm spokesman confirmed the ride broke down at 2 p.m. Park officials said their maintenance team made several attempts to bring the ride down before calling fire authorities hours later.
One rider, Gabe Javage, said the situation was getting dire as many people needed to use the facilities and had nowhere to go.
The Sky Cabin is a space needle-looking ride that moves people up and down. 
An employee was also aboard, the rider said, and was communicating with coworkers via walkie talkie. The employee said a main brake was activated and could not be released. 
Child Rescued From Knott's Ride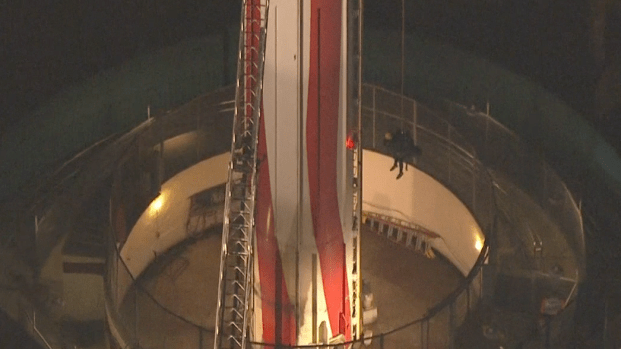 The first of an estimated 17 people trapped on a Knott's Berry Farm Ride for more than five hours was safely lowered to the ground via harness with a firefighter Friday, Dec. 30, 2016. (Published Friday, Dec. 30, 2016)
A portion of the park was shut down so fire officials could aid in the rescue, the rider said. 
Javage said it was the first ride his out-of-town family went on at the park. 
The first of an estimated 20 riders, a child, was fitted with a harness and lowered to safety at around 7 p.m. 
A call could be heard made by park officials to have 10 cotton candies ready for children once they were lowered to the ground. 
By 7:45 p.m., the third child had been rescued. 
It wasn't until close to 10 p.m. that the final rider was rescued from the ride, bringing the entire eight-hour ordeal to a close. Knott's Berry Farm tweeted that all riders, 20 park visitors and one employee, were safe. 
Sky Cabin will be closed until the cause of the incident is solved, park officials said.
Published at 5:29 PM PST on Dec 30, 2016 | Updated at 3:08 AM PST on Dec 31, 2016
On this topic: ( from category )